Depending on the type of hotel you operate, room service is either a valuable amenity or an underused financial burden. To determine whether offering traditional room service is a profitable venture for your hotel, start by evaluating your clientele, menu, and location. Some hotels may increase their revenue by choosing an alternative to room service or forgoing it altogether. If you decide to provide in-room dining, you can cater to modern needs by updating this classic amenity. Keep reading to learn how to make room service profitable.
Room service is a hotel amenity that allows guests to order food and drink to their rooms. Hotel staff arrange the meal with the appropriate dishware and condiments on a
room service tray
. It's an in-room dining best practice to offer guests a rolling
room service table
in case they don't want to eat in bed.
There are three main types of traditional room service: centralized room service, decentralized room service, and mobile room service. We explain what you need to know about each type of room service below.
Centralized Room Service — Hotels with centralized room service process all their orders in their main kitchen and have a common team of servers who deliver meals to guests' rooms.
Decentralized Room Service — Some large hotels decentralize their room service by having separate pantries on different floors. Filling guests' orders from a pantry on or near their floor expedites serving times and improves food quality.
Mobile Room Service — Sprawling resorts may require a mobile room service operation. They use a van to deliver guests' orders to the cottages and/or suites on their property.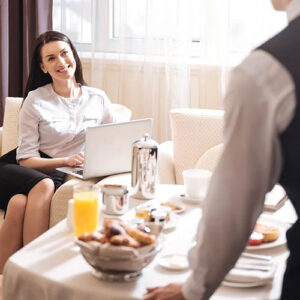 Just like bed and breakfasts are popular amongst leisure travelers and honeymooners, room service has its own target audience. Upscale and mid-scale hotels receive the most room service orders, and almost half of the leisure travelers patronizing upmarket properties order room service during their stay. Most notably, 60% of surveyed business travelers said they use in-room dining services.
There are four primary groups who use in-room dining services:
Business travelers
International guests
Families with small children
According to a HubSpot study, ease and convenience motivates two out of every three room service orders. The desire for luxury is the smaller but still noteworthy motivation for ordering room service. Understanding why hotel guests order room service allows you to tailor your in-room dining amenity to their needs.
When Should You Offer Room Service?
We help you determine the most profitable times to operate your room service amenity below.
Breakfast Room Service – Luxury hotels can fulfill patrons' dreams of enjoying a decadent breakfast in bed by offering room service during breakfast hours. If you manage a mid-priced hotel that primarily serves traveling businesspeople, consider offering to-go style breakfasts such as yogurt parfaits, breakfast sandwiches, and egg burritos.
Lunch Room Service – In most cases, offering room service during lunch hours isn't profitable. Typically, vacationers and businesspeople spend their afternoon hours at attractions and conferences and won't eat lunch in their rooms. If you're a luxury hotel that offers 24/7 room service, consider offering charcuterie boards.
Evening Room Service – Evening hours are profitable for mid-priced hotels that attract a lot of traveling business clientele. Businesspeople often travel solo, making them wary of the compromised safety and awkwardness associated with finding dinner in an unfamiliar city, so they appreciate having their dinner delivered to their room.
24/7 Room Services – Many five-star hotels offer around-the-clock room service to cultivate an atmosphere of luxury for their guests. If you're a 3 to 4-star hotel operating in a night-life district, you would do well to offer room service throughout the night. Tailor your late-night menu to pub grub bestsellers like pizza, burgers, and loaded fries.
Room Service During Your Hotel Restaurant Hours – If your hotel has a restaurant, you can mitigate operational costs by offering room service during restaurant hours. Having restaurant staff prepare room service and in-person orders side-by-side reduces the number of staff required. Offering the entirety of your hotel restaurant's menu makes in-room dining more appealing for customers who want options. Limited room service menus cause many patrons to turn to third party delivery apps.